About diversity
DIVERSITY, INCLUSION AND THE FEELING THAT WE BELONG TO WORKPLACE
Diversity is any dimension by which we can distinguish between groups of people and individuals. It is a conscious acceptance of the fact that we as people are diversified in terms of age, gender, ethnicity, religion, disability, sexual orientation, education or nationality. The differences between us are either visible or invisible. In recent years, aspects of invisible diversity have also come to the fore in an active approach to diversity and inclusion at workplace. These include, for example, introvertedness/extrovertedness, cognitive diversity (diverse thinking), different work and life experiences or tendency to anxiety or susceptibility to mental health problems.
Inclusion means creating a safe and respectful environment that accepts people as they are. Mutual understanding and tolerance are prerequisites for social and cultural acceptance and equal treatment. The result of a successful inclusive approach is the sense of belonging. It is not just a quiet tolerance of otherness, but also a sense of active support that allows people to perform at their best. The inclusion process involves each individual and makes people feel as an important part of the company or organisation. Such cultural shift constitutes companies and organisations with higher performance level thanks to motivated employees.
Equal treatment requires creation of equal opportunities at workplace. Observance of the principle of equal treatment consists of protection from discrimination and adoption of measures to prevent discrimination, equal treatment of employees as well as ensuring equal opportunities. The principle of equal treatment does not mean that the employer shall treat all employees equally in every situation. On the contrary, it assumes that in justified cases the employer will consider the special requirements and needs of the employee concerned (e.g. to adapt the workplace to health condition of a specific employee).
Diversity management is based on the uniqueness of every individual and purposefully creates strategies, policies and programs that create a respectful environment. Companies and organisations applying diversity management in practice go beyond compliance with the antidiscrimination legislation. They value and recognise their diverse employees as well as perceive and develop their potential. In this way, they contribute to the better functioning of the organisation as a whole and achieve better results.
BENEFITS OF PROMOTING DIVERSITY AND NON-DISCRIMINATION AT WORKPLACE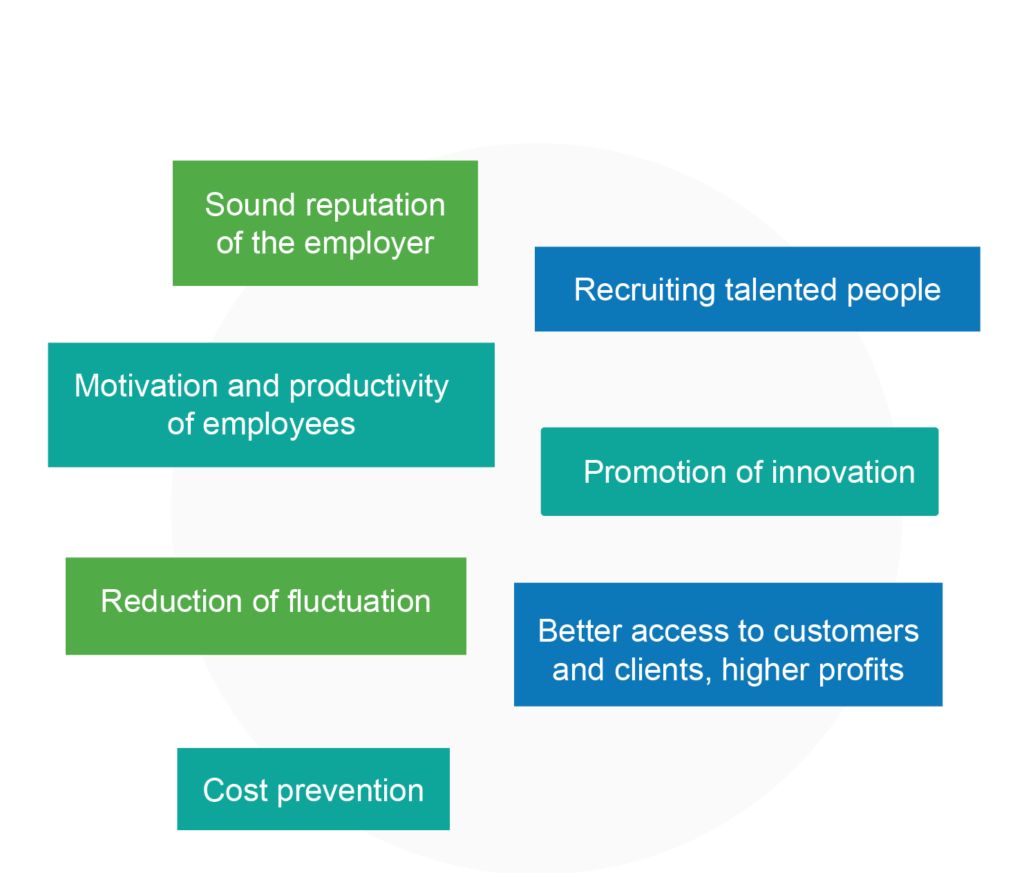 Would you like to keep learning about diversity and get inspiration to adopt particular measures at your workplace? Become a signatory of the Diversity Charter – training and networking platform joining more than 100 companies, organisations and institutions. By signing the Diversity Charter, you publicly commit to create and maintain inclusive working environment for your diverse employees.

Are you seeking advice in creating effective measures to prevent and resolve discrimination at your workplace or learn more about equal treatment and non-discrimination? Contact the Slovak National Centre for Human Rights – national equality body. The Slovak National Centre for Human Rights can also be reached by employees that feel discriminated at workplace